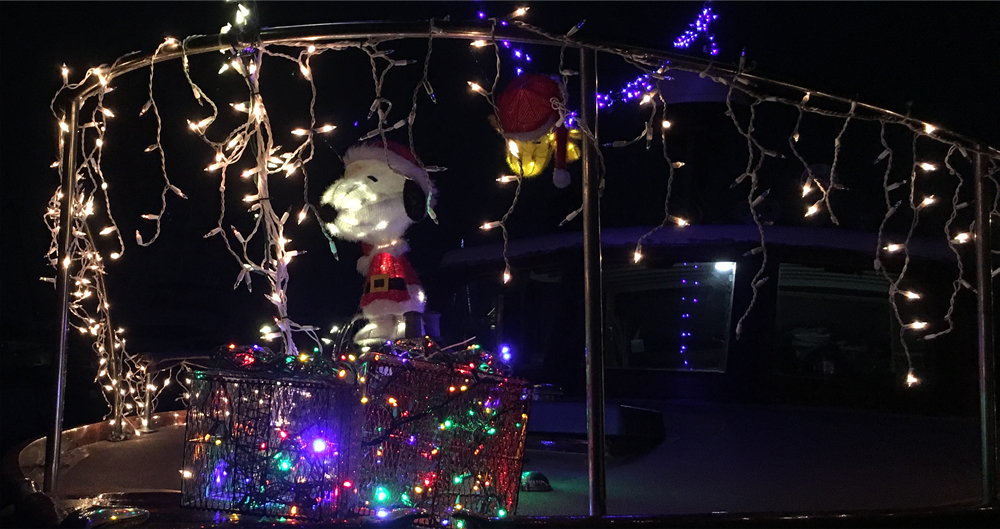 Another festive holiday party was held at Westpoint thanks to the 100+ people who gathered at the harbor house and the many members who lit up the harbor with decorated boats.
Congratulations to this year's winners!
Special Categories
Most Participatory Dock Challenge Cup – 2018 Winners – B-Dock
Most creative handcrafted decoration

On Adamo, B-Dock – Karen Gitter's mom for the most beautiful Santa Wreath – Prize Sanders Chocolate Box
Wishing we were somewhere warmer for the holidays (also known as the "Using Summer Decorations in a Winter Scene Fail"

On Agave, B-Dock – Shannon Amerman and Tod Klinger for unusual use of inflatable Palm Tree and Flamingo – Prize freshly picked Artichokes from the Sander's ranch
Best Decorated Boat – Top 5
5th Place – On Tuva, F-Dock – The Atencios – best use of Candy Canes
4th Place – On Serenity, C-Dock – The Smegsruds – the sights AND sounds of Christmas
3rd Place – On Private Reserve, C-Dock – The Estradas – most effort in decorating (aka the "Can be seen from space" award)
2nd Place – On Firebird, E-Dock – The Cranes – the most colorful decoration
and…
The 2018 Best Decorated Boat Winner – On Hall Aboard, E-Dock – The Halls – for The Holidays Incarnate, trees, music, lights, stockings
Special thanks to the judging team of Doug Furman and Arvid Hoppas, master of ceremonies and resident comedian Kevin Parker, decorators extraordinaire Barbara Bussler and Jane Thurier,  and Bob Wilson and Ken Parker for recording the sights and sounds of this year's wonderful Holiday Party.
View Bob's photos and stay tuned for a link to Ken's video.