This is what people are saying about Westpoint Harbor.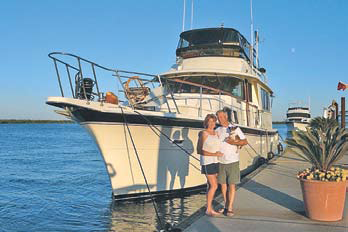 "We are among the many people who have followed this incredible project for much of the last 20 years, and we were among the very first tenants. The harbor has really created a standard that sets it apart from all others and attracts a delightful and diverse cross-section of boats and owners. There is a real sense of community here; there's always something going on – especially on the Party Barges! The facilities are simply unmatched and I appreciate the high-tech security measures. We were very selective in choosing this marina and are very happy here at Westpoint Harbor."
Rich and Connie Dancaster
---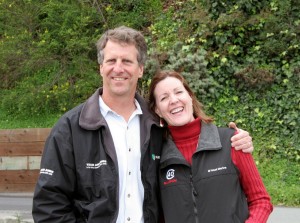 "Westpoint Harbor is a one of the friendliest harbors we've ever kept Illusion. From the first day, we were welcomed into its warm supportive community of sailors and power boaters. Conveniently close to home and easy, all-tide access to the Bay makes this a perfect place to re-fit and enjoy the South Bay sunshine. Thanks to Mark for all his incredible support for the America's Cup video testing."
Sally and Stan Honey
---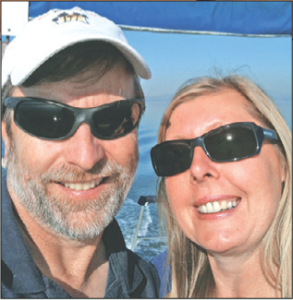 THE BAY'S BEST-KEPT SECRET
"In a great location, Westpoint Harbor provides spectacular views with outstanding weather. The facilities are incredible with thoughtful design and high quality. Whether you sail or motor, the South Bay is a great place to explore and experience. The boating community here is fantastic!"
Paul and Darla Welch
---
Sonya B – I've been a happy Westpoint Harbor resident for over 2.5 years and this marina just keeps getting better. More services. More amenities. And more beautiful…
Wendy J. – My husband and I have kept boats in marinas around the world – Germany, Norway, England, Florida, Maryland and now San Francisco. We have had two different boats at Westpoint Harbor in the last 5 years and we love it. We left for a little over 6 months ago for a stay in Sausalito, but are moving back to Westpoint in a week.
The marina itself is first rate, state of the art docks, great amenities, great harbor protection, and a very nice social atmosphere.
Mark S. – I've had my 36′ sailboat at Westpoint Harbor for over 5 years. This is probably one of the best designed marinas I've ever seen. Mark spends a lot of time and money to make his dream come true and he got it right. To start the docks are wider than most marinas with large slips. There is a pump out connection at every other slip so you won't need to move your boat……. All the owners take great pride in their boats and all are very clean and well maintained.
Christopher D. – I have owned a sailboat and currently own a 42′ powerboat, and I've lived on both for a total of about 10 years. I have made it a point to lead a bit of a transient life in order to experience different areas and communities in Northern California. I've lived in Monterey, Santa Cruz, Half Moon Bay, Alameda, Oakland (Jack London), San Leandro, and Redwood City. I have experienced many harbors and many management styles, and of all the marinas I've lived, I only went back to one for a second time, and that was Westpoint Harbor.
Gordon M. – We have used marinas for our blue-water cruising boat in many places, in USA, Europe, Caribbean, South America, SE Asia…, some good, some less good, some downright bad. But we have never found a marina as good as WestPoint Harbor. This is the surely the best marina I have found on 5 continents.
Karen G. – My husband and I moved our Valiant 50 sailboat to Westpoint Harbor in Redwood City Labor Day of 2011. What a beautiful place to live! Who would have guessed the weather is awesome every day, and you are still in San Francisco Bay!
Mark, the owner, has thought of everything. He has spent a lot of time on boats in marinas, and knows what boaters want. We have everything you could want. Pump out hook ups at every slip, storage lockers in the marina, bike racks, laundry room, ice machine, boat launch ramp, community garden, large guest dock, movie nights, party barges with BBQ grills on each dock, and beautiful restrooms and showers. and 24 hour security. This marina is a dream come true! Thank you Mark!
Graeme T. – I choose Westpoint Harbor as myhomeport for "Sula", my 53 foot Hallberg Rassy.  The location on the mid-Peninsula near highway 101 is ideal, and I spend far more time on my boat as a result.  Almost as important are the outstanding facilities and the wonderful sense of community.  The South Bay also offers great weather and excellent sailing conditions.
David U. – Our family has had our boat at about 10 marinas over the years, from Florida to Mexico to SoCal to the Bay Area. We have had our boat at Westpoint Harbor now for a bit over one year, and it's clearly the best designed and most professionally operated marina we have stayed in.Westpoint Harbor is worth a look if you are looking for a new marina.
Thomas F. – I have kept my boat at Westpoint Harbor since September of 2008. There were five or six boats in the marina at that time and they had just opened. I followed the construction from the start of the first excavation and was eager to see it completed. This is the finest marina I have seen in the Bay area.
Heather C. – Basically, if you appreciate what "Bristol" means then I guarantee you will like Westpoint Harbor. I have a 46′ sailboat and in my opinion Westpoint is the best kept secret in the Bay Area.
Jeffrey M. – We stopped by on a trip to explore the South Bay. This is a newer marina and they have knocked themselves out. ……… Everything is spotless and kept up. They've expanded, so they are only at 50% capacity. The boats are all nice and the people are friendly. It has a family feel. The staff is first rate. Six stars. Best in the Bay.
Curtis R. – I have to put in a word for Westpoint Harbor in Redwood City, CA. We just went there for one night in a guest slip and I was totally impressed with the courtesy and friendly service there. As we approached the dock, two men met us to help secure our boat and introduce us to the marina. They provided an adaptor for our electrical connection, and gave us a nice tour of the facility, which boasts very nice restrooms, showers, and laundry. What really impressed me was that I received a phone call from John several hours after we left. He knew that we were bucking 35-40 knot headwinds on our way back to Sausalito, and he called just to be sure we got home safely! Terrific people.